Dari Mana Pakaianmu Berasal? Upah dan Kondisi Kerja Buruh Industri Garmen, Tekstil, dan Sepatu di Indonesia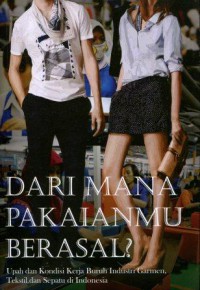 Contributors:
Abu Mufakhir, Bambang T. Dahana, Syarif Arifin
Published by:
LIPS
Release Date:
2016
Pages:
82
ISBN13:
9786021406281
This book is a research report. And the report was used as one of the supporting documents in The Indonesia People Tribunal on Living Wage and Decent Working Condition for Garment Workers as Fundamental Rights, conducted in Jakarta on 21 to 24 June 2014.
The research was on working condition and wages in textile products industries, specifically in footwear industry in Tangerang and Serang, Banten Province. The report shows how both companies, which were used as case study in this research, have violated workers' basic rights i.e. freedom of association and negotiation, and guarantee of decent wage. The research found that these violations have been conducted systematically.
In order to distribute the knowledge, LIPS then published the report in the form of book, together with Tanah Air Beta, a publisher base in Yogyakarta. The 82 pages book was written by three of LIPS' researchers.